Shirt 3: Released to John Hoppin
Shirt 3 was given to John Hoppin on August 24th 2002 in San Francisco, CA in a launder-mat in the lower Haight. It is was the first time I had hung out with John and his collaborator Anthony of the "It Can Change" curating and art collective. I met the two of them at the Peacock Lounge where they were going to DJ a friend's Birthday Party. John was hungry so all 3 of us went to the ATM and John got cash for in a Falalafel that John ate in the launder-mat. After that we went for a couple of drinks at a watering hole named the Noc Noc. John is currently in Oakland, CA - US on his way to New York City.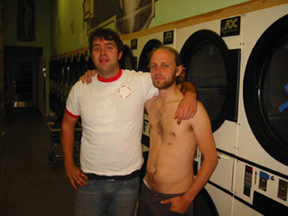 John Hoppin Oakland, CA USA & Chris Sollars San Francisco,CA USA
More Coming Soon..