Shirt 5: Released to Hans in Varanasi
Shirt 5 was given to Hector Escarraman on the night of August 26 2002 in San Francisco, CA in front of my home 667Shotwell. Earlier that night, I had gone over to Hector's house on 24th street to give him the shirt to take to Pravh, who was departing for India the next day. Over at Hector's I met his new roomate Jess and talked with him about the folds in his carpet, while we drank a brew and he ate rice and vegetables. We figured out the best solution would be to rotate the blue carpet and tack it into the existing red one. The two of us also rearranged his kitchen appliances and looked at the setup on his computer. I realized I didn't bring my camera to take a picture of us exchanging the shirt so I rode home to pick it up while our friend Nathan was on his way to pick up Hector for a night out with Prav Potu. Nathan and Hector came over to 667Shotwell and I came down stairs, gave Nathan the camera, and proceeded to take of the shirt, and give it to Hector. Hector then wore it from my house in the Mission District to the Inner Sunset of San Francisco and gave the Shirt 5 to Prav. Prav also made some new friends that night.
More Coming Soon..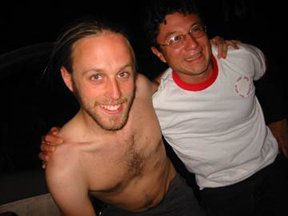 Chris Sollars - San Francisco,CA USA &
Hector Escarraman - San Francisco,CA USA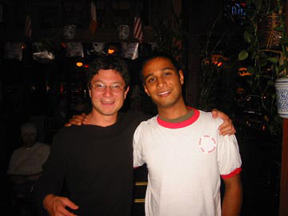 Hector Escarraman - San Francisco,CA USA &
Pravine Potu- INDIA
my little bit for the shirt that gets around
hey chris,
shirt number 5 was given to me by hector the night before i left for england. I arrived in england and stayed for a couple of weeks, kicking it in sleepy benenden, kent. I then set off on my travels once again, this time bound for hyderabad, andhra pradesh, india. I went to work on an indian feature film called 'gangotri'. as the films' title suggests, the story is set in the north of india in gangotri. i stayed a week in hyderabad and then set off for the himalayan foothills, and the sacred town of gangotri. shirt number 5 did travel with me, but, i didn't actually get it out we travelled around everywhere from gangotri to rishikesh, haridwar, kulu and manali. working on an indian film doesn't leave you much time for yourself let alone worrying about passing a t-shirt onto someone suitable. i did actually at one point think about palming it off on to a shirt-less beggar, but it probably wouldn't have got very far.
anyways, so about three or four months later i find my self recovering on neil island in the andaman islands. the islands are about 1000km east off the coast of india, and about 400km south of myanmar. it was absolute paradise, the scuba diving was cool but didn't live up to the hype. so i met this cool israeli couple, tamir and shelly. they were staying at the same resort as me and they were going on to thailand....perfect. i gave the t-shirt to them on my last night on neil island.
i hope this is alright, ley me know if this okay,
Prav