Shirt 5: Released to Alexander in Calcutta
Hey hello there,
I see there s hardly any news on shirt no 5, while its been around!!!! i think i was with me for about 6500 km!!!!!! My name is Elisabeth. I m Belgian and traveling for a long time in Asia. I got he t shirt from Mirjam and Frank, a Dutch/belgian couple on the boat from Port Blair, andaman islands, to CHennai, INdia and had it in my possession for about 1.5 monhs, since i didnt meet anyone suitable..... so the t shirt has been to mahabalipuram, in Tami NAdu in india and then all the way to sri lanka and back to india....but here i am, in calcutta and i've just hand it over to a good friend of mine, Alexander, whom I met traveling in december in the north of India and he s gonna be the next "father" of shirt no5. But its going to suffer now, since in about 2 days teh most famous festival of india will take place.....the one where everybody is going to throw all kinds of colours of paint on anyone passing in the street.....i m sure he ll tell you more about it afterwards.
no picture for now
see ya elisabeth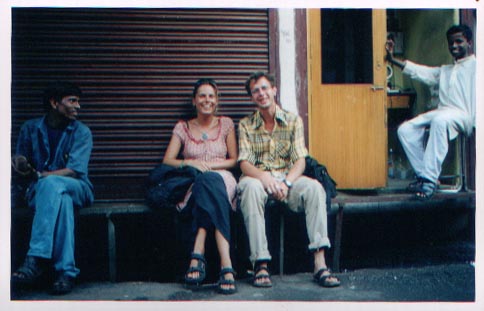 well, and here we go:
this is alex writing from calcutta. i'm from berlin/germany and as you know meanwhile i'm the keeper of shirt nr.5 for the moment. when elizabeth gave it to me a week ago i immediately figured that it would be fun wearing it on holi (the mentioned hindu-festival of colours) - to get it new designed*. but on that day it surprisingly took me a while to attract some people that were couragous enough to throw some colours on me as i was completely in white (with a pair of white trousers that i just got tailored here). when some friends saw me this morning they thought i must be crazy to ruin these clothes but ... well - ahem.. i don't know, maybe it's what i am. as you can see on the picture i finally made it to get some colours on it. but don't worry - i washed it meanwhile (even though it's still a little bit red, but that's part of the game isn't it ? to record history..)
i'm not sure so far if i'm taking the shirt back home, cause it's been around here in india now for a while, or if i find someone suitable who leaves the country to a different direction - whatsoever, i'll keep you up to date.
that's it for now, aloa -